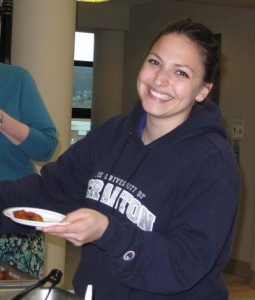 This week the student spotlight is on Julianna Sacco of Kinderhook, New York.  Julianna, a Health Administration major, began working for Circulation Services in the Fall of 2013.  She understands what it means to work hard.  Before attending The University of Scranton, she assisted her father in the family funeral home business.  She enjoys working in the library because there is always something new to learn and Julianna always learns quickly.
And if being a full-time student and working in the library isn't enough, Julianna also works for the Catering Department. In fact, students working for catering aren't allowed to take time off during the last month or so of the semester, so when one of her scheduled catering shifts conflicted with the WML Student Work Study Celebration at the library last week, she volunteered to cater the event just so she could be in attendance!
She is an active member of the Health Administration Society and Dr. Spinelli is her favorite Professor. When she's not busy with her studies and her work, she enjoys watching movies, reading, snowboarding and traveling.  Her favorite book is The Departed and her favorite movie is Gone With the Wind.
After Graduation in May, Julianna will continue her Graduate studies here at The University of Scranton.  Her advice to other students is to utilize the resources the library has to offer – especially the Reference librarians who are very helpful in locating resources.
Congratulations, Julianna, on your upcoming graduation. We're all looking forward to you continuing your work and studies here in the Weinberg Memorial Library!