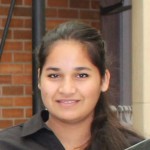 The Library is proud to spotlight one of its hardworking student workers, Farishta Abdullahi. This is Farishta's fourth year in the McHugh Special Collections & University Archives, and her primary work includes processing negatives from the Terry and Paula Connors Photograph Collection and accessioning records from the Office of the Provost into the University Archives.  Every spring Farishta also volunteers at the Friends of the Weinberg Library Annual Book Sale.
Although much of Farishta's work takes place behind the scenes, she always maintains a high work ethic, and she says that she enjoys the quiet satisfaction of processing and organizing the archival records. She says that she even finds it relaxing!
Farishta is an Accounting major with a minor in Arabic, and she is actually fluent in four languages, including Urdu and Hindi! She plans to graduate in May 2016 and become a Certified Public Accountant.
This past summer Farishta was a marketing intern in the Women's Entrepreneurship Center and Small Business Development Center at the University of Scranton. Throughout the summer she promoted the Center's activities and provided individual assistance to women who were interested in exploring the possibility of starting their own business. She also wrote informational blog posts on a variety of business topics, including Sustainable Product Ideas, Challenges of Owning a Seasonal Business, and Improving Credit When Starting a Small Business.
This semester, along with balancing her course work and work-study hours, she is interning at Tatulli & Associates, an accounting, tax, and financial consulting firm in Dunmore.
When Farishta finally has some down time, she enjoys watching Asian dramas and playing with her 6 month old niece.
Farishta's advice to other University of Scranton students is that the Library has a lot to offer – take advantage of it!
Thank you, Farishta, for all of your support to the Library!