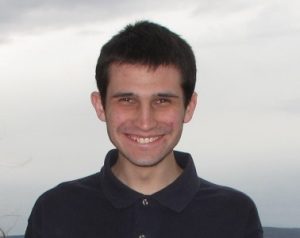 As the academic year comes to a close, I'd like to recognize one more outstanding student worker who will graduate next week. Ian Taylor of Delran, New Jersey has been working in Circulation Services for the past two years. Ian is a lively presence at the Circulation Desk, eager to assist patrons with whatever they need.  He does an excellent job of sorting and shelving books.  His work is always very accurate.  We certainly will miss his pleasant personality and his sense of humor.
Ian's studies have been in Theology/Religious studies. He especially enjoyed Dr. Clark's Virtue & Christian Ethics class.  His minor field of study is Media Information Technology.  He is an active member of The Aquinas, Students for Life, Catholic Relief Services, Liturgical Ministries, Campus Ministry, Praise & Worship groups.  He could always be seen assisting in Mass as a Eucharistic Minister.  He plans to eventually become a priest.
Ian loves to read and made good use of our library during his time here. His favorite book is The Confession by John Grisham and his favorite movie is The Grace Card.  He advises other students to utilize this library and its vast amount of resources.  He always made good use of Palci EZBorrow and Illiad and encourages other students to do the same.
Congratulations Ian! All the best to you as you continue your religious life.