A selection of rare materials from McHugh Special Collections is currently on view in the Library's 5th floor Heritage Room. One of the books highlighted in the exhibit "From Medieval to Modern" is Marcus Tullius Cicero's Rhetorica ad Herennium.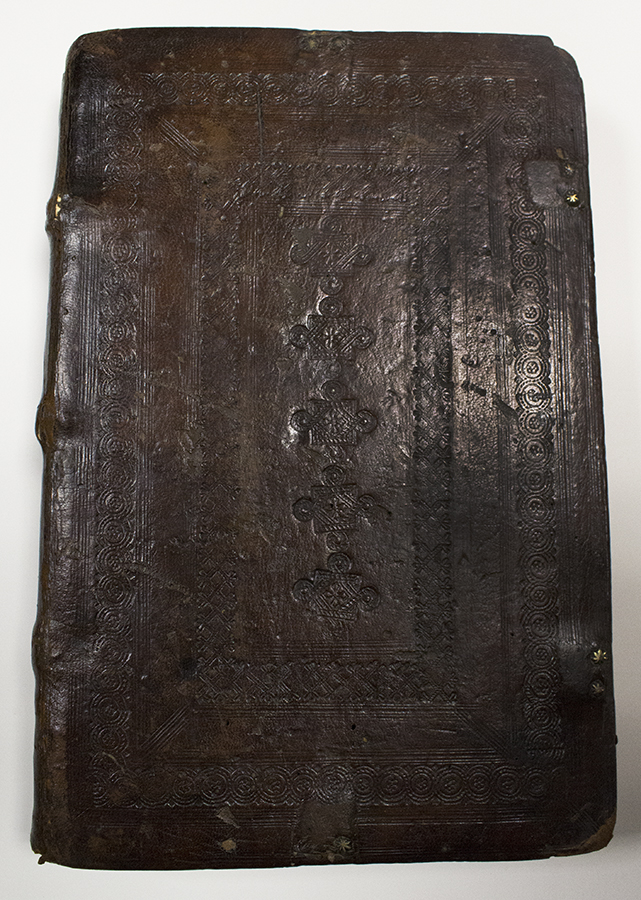 Marcus Tullius Cicero (106 BC – 43 BC) was a Roman philosopher, politician, lawyer, orator, consul, and constitutionalist credited with introducing Romans to Greek philosophy and being the innovator of what became known as Ciceronian rhetoric.
This book, printed in Venice in 1481 by Baptista de Tortis, and in its original blind-tooled (uncolored decoration) binding, has a wealth of information on its provenance (history of ownership). Nicholai Risi, about whom nothing is currently known, likely originally owned the book. He was responsible for the amateurish initial letters and the marginal annotations. Books printed during the first decades after Gutenberg's printing press usually omitted the large opening paragraph initials expecting the owner to have them supplied by a scribe following the medieval manuscript tradition. Nicholas decided to write them himself (See image below). One might guess that he was a poor student and could not afford to pay for the work to be done but the book is in a fairly elaborate binding which would have been fairly expensive.
The book was later owned by the Honorable Frederick North. This Frederick North was the 5th Earl of Guilford (1766-1827), governor of Ceylon, and a significant book collector. (His father, Lord Frederick North was prime minister of Britain during the American Revolution.) Books bearing our Frederick's book plate can be found in a number of libraries and his personal library was dispersed at eight London sales between 1828 and 1835. Finally, the book was owned by W. W. Scranton who purchased it in 1871 apparently for the price of $17.50 which would have been about three week's wage for a laborer at the time. Where the book resided between the dispersion of North's collection and William Walker Scranton's acquisition is unknown.
To read more about the Weinberg Library's Rare Book Collection visit our collection page here. "From Medieval to Modern" will be on display during normal library hours through Tuesday, April 25. On Tuesday, April 11th, Special Collections Librarian Michael Knies will discuss the exhibit at 6 p.m. in the Heritage Room of the Library. A reception will immediately follow the talk. This event is free and open to the public.  For more information, please email michael.knies@scranton.edu or call 570- 941-6341.