A selection of rare materials from McHugh Special Collections is currently on view in the Library's 5th floor Heritage Room. This week we are highlighting the Book of Hours from the exhibit "From Medieval to Modern".
The Book of Hours was a Christian devotional book that became popular in northern Europe during the 14th century and has been called the Medieval best seller as many educated men and women owned them. The Book of Hours was a distillation, for laypeople, of the series of prayers said by priests, monks, nuns, etc. during the course of the day divided into sections from morning through the night. Although containing a similar collection of texts, prayers, and psalms, there is a high variation in quality depending on the budget of the purchaser. As result, each manuscript was unique with its illumination and binding. Most examples are small books with little illumination, often restricted to decorated capital letters at the start of psalms and prayers. However, the books made for the wealthy can be extremely lavish and heavily illuminated with full-page decorations and have extravagantly decorated bindings.
On display in the Heritage Room are several examples of the Book of Hours from Special Collections: two medieval leafs, a simple book, and a fine art facsimile. The first leaf is from a fine Book of Hours with inhabited borders (ca. 1440). The second leaf is from an undistinguished Book of Hours (ca. 1450-75), but has significance because it records information in French on the Dumesnil family from Loire.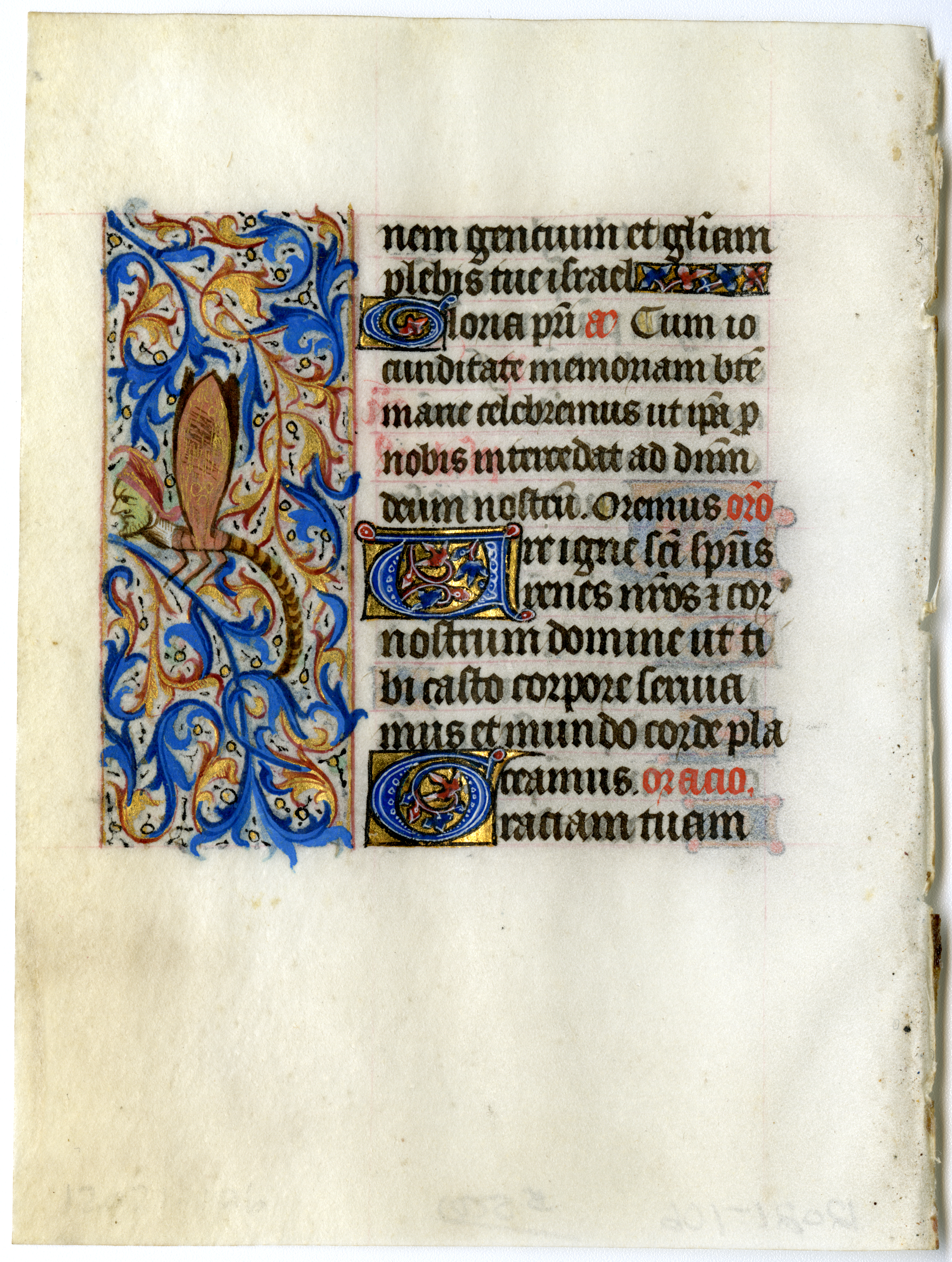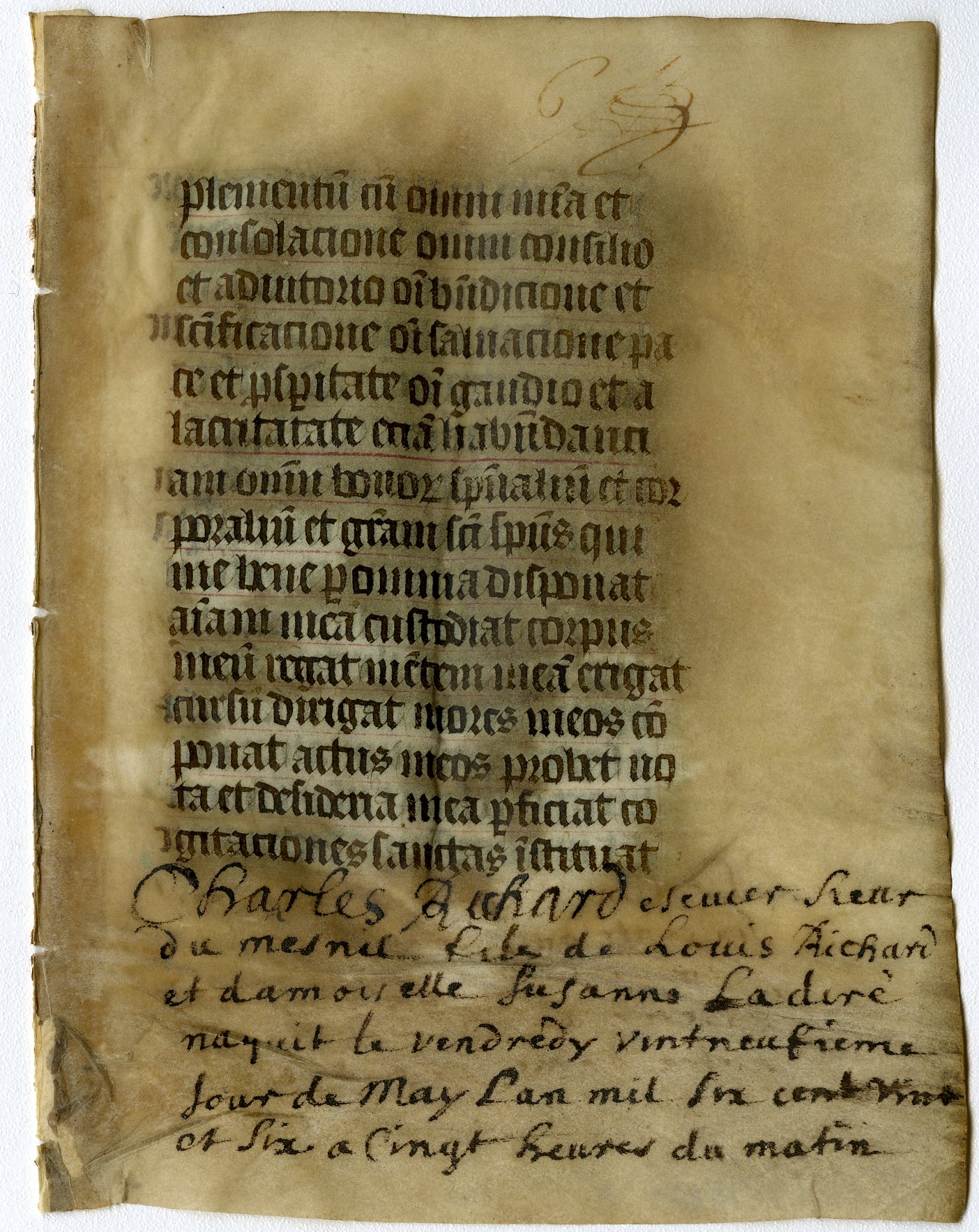 There is a Book of Hours (1685) bound in a simple blind ruled black Morocco. This binding has an unfortunately added shelfmark in addition to damaging adhesive tape. Finally, there is a fine art facsimile of a miniature, illuminated Book of Hours from the Vatican Library in brown leather with raised bands and gilt decoration.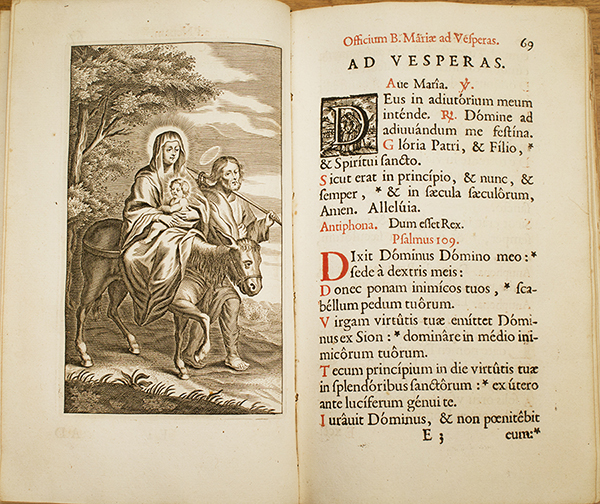 To read more about the Weinberg Library's Rare Book Collection visit our collection page here. "From Medieval to Modern" will be on display during normal library hours through Tuesday, April 25. On Tuesday, April 11th, Special Collections Librarian Michael Knies will discuss the exhibit at 6 p.m. in the Heritage Room of the Library. A reception will immediately follow the talk. This event is free and open to the public.  For more information, please email michael.knies@scranton.edu or call 570- 941-6341.