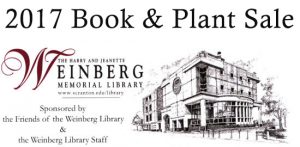 The Friends of the Weinberg Memorial Library book sale is almost here. Volunteers, faculty, and staff are preparing for our annual sale, which supports our collections and services. The event is this weekend with a special preview sale for current Friends of the Library & Schemel members and University of Scranton students on Friday, April 28.
A donated collection of 40 Harbour Lights Lighthouses will be for sale individually at the tag sale portion of the Book Sale. These lighthouses are collectible replicas of historic lighthouses and were created in limited production each with its own numbered edition and individual serial numbers. All lighthouses are in excellent condition and include the original box and Certificate of Authenticity.
The Book Sale is Saturday, April 29, from 9 a.m. until 8 p.m., and Sunday, April 30, from noon until 8 p.m., in the fifth floor Heritage Room of the Weinberg Memorial Library. Join the organization if you would like to take advantage of the special preview. Click here for membership information.
We are unable to take any more donations at this time. Please contact us in the middle of May to make donation arrangements for next year's sale. The library will accept any hardcover or paperback books in good condition, including children's books, cookbooks, fiction, and non-fiction. In addition, the library is collecting media and tag sale items.
For additional information or to volunteer, please contact Barbara Evans at 570-941-4078.