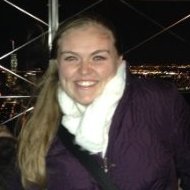 Mackenzie Thompson, from Breezy Point, NY, is a senior Occupational Therapy major with minors in Psychology and Counseling and Human Services. Mackenzie has worked as a technical consultant in the Reilly Learning Commons since its opening in August 2014, where she loves working with people, helping them with technology and using the library. Over the past three years, Mackenzie has helped implement new technology in the Library and is always happy to share her knowledge with others.
Mackenzie is very active on campus working with the Royal Signers on the Executive Board, serving as Co-Director of the Royal Ambassadors, and a member of the Student Occupational Therapy Association (SOTA), and Wishmakers. Mackenzie is also a member of Alpha Sigma Nu, Alpha Epsilon Delta, and Psi Chi.
Mackenzie's hobbies include drawing, reading, and decorating for holidays. Mackenzie's favorite book is Rosencrantz and Guildenstern are Dead and her favorite movie is Anastasia. You might be surprised to learn that Mackenzie has FOUR dogs! Two 8-year-old Golden Retrievers, Brooke and Lucky, and two rescues, a Siberian Husky named Indigo, age 3.5, and a St. Bernard, Indigo, age 5.
Mackenzie hopes to become a Pediatric Occupational Therapist. Mackenzie's favorite professors have been all of her OT professors who share their enthusiasm for the field with their students.
After graduation in May, Mackenzie will continue with her education in pursuing a Master of Science in Occupational Therapy at the University of Scranton.
Thank you, Mackenzie! Best wishes with all your future endeavors!