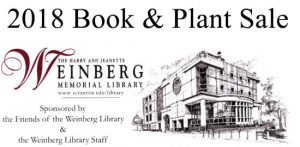 The Friends of the Weinberg Memorial Library book sale is less than two months away.  Volunteers, faculty, and staff are preparing for our annual sale.  The proceeds from the sale supports our collections and services.  The event will be the last weekend of April.
The library will accept any hardcover or paperback books in good condition, including children's books, cookbooks, fiction, and non-fiction. In addition, the library is collecting media and tag sale items.
There are donation boxes on the Monroe Avenue side of the library. We will take donations until Wednesday, April 25.
This year's book sale is on Saturday, April 28th, from 9 a.m. until 8 p.m., and Sunday, April 29th, from noon until 4 p.m., in the fifth floor Heritage Room of the Weinberg Memorial Library.   If you're not a member of the Friends of the Library, and would like to take advantage of our special private preview on Friday, April 27th, you may join by visiting http://www.scranton.edu/academics/wml/friends/friends-benefits.shtml