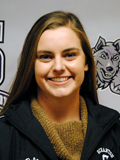 We first met Erica Westlake of West Chester, PA during her Summer orientation when she visited the Library with her mom. While Erica inquired about a work study position in Circulation Services, her mom was concerned about a broken window that she discovered outside over the patio exit.  We made two good discoveries that day!  Erica applied and began working with us the following Fall semester.  Like her mom, she has great attention to detail and it's evident in her work here.  She keeps herself informed of current policies and procedures in order to provide the best possible customer service experience.  Some of the things she enjoys most about working in the library is chatting with patrons and co-workers and helping Barb Evans set up displays.
Erica majors in Biology and Philosophy. Her favorite class was Dr. Sulzinski's Virology class.  Her goal is to become a medical doctor and she has applied to several medical schools.  Also an athlete, she was a member of the Royals Varsity Swim Team for the past four years.  In her spare time, she keeps busy by contributing to Esprit, participating in Praise & Worship, volunteering at the Leahy Clinic and tutoring.  She also enjoys photography* and of course – reading.  Her favorite book is When breath becomes air / PaulKalanithi. Something interesting about Erica is that although she is left-handed, she plays all sports right-handed.
To date, she's been accepted at Geisinger Commonwealth School of Medicine in Scranton and is anxiously waiting to hear from the rest. Though she can't be certain where she will end up, she's prepared to stay in Scranton for a few more years.  It certainly would be nice to keep in touch with her.  We wish her all the best!
*Look for Erica's photography entries on display as part of the Environmental Art Show, WML Heritage Room.