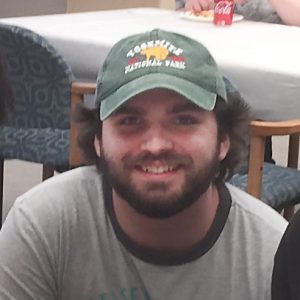 Nathan Ratchford, an English major from Dalton, PA, began working at the library Circulation Desk in 2016. Nathan knows his way around a library and that showed as he quickly learned to execute the tasks of the department, but perhaps his best talent as a library worker is customer service.  Whether he's serving a fellow student or a member of the faculty, Nathan's skills as a conversationalist and his broad interests provide him the ability to happily, sincerely, and courteously engage any patron.
"I really enjoy the people I work with more than anything," Nathan said when asked what he enjoys most about working in the library. "I'd like to think that we all share some common ground — one way or another. I've built some great relationships in my time here," he added.
He advises other students to take advantage of the library's many resources; books, academic journals, films, and the PALCI E-ZBorrow system.
Nathan vigorously enjoys hiking, rock climbing, and kayaking, which contribute nicely to another favorite hobby, photography.
Nathan's favorite class was Parables in Pop Culture, with Dr. Olsen; his favorite book is On the Road; and his favorite movie is Big Fish.
Nathan Fun Fact: he is the second youngest of seven children!
After graduation, Nathan will pursue digital content management and production, while independently producing writing and photographs for publication.
Happy trails, Nathan!  Best wishes and success as you explore the peaks, valleys, and streams of your future.