In an effort to provide additional eBook access as the University shifts to online learning, the Weinberg Memorial Library has subscribed to Elsevier ScienceDirect eBook Collection for a limited time.
University of Scranton Students, Faculty, and Staff will now have full-text access to Elsevier monographs from 2020 back through 2016. Subject areas covered by this eBook collection include physical sciences and engineering, life sciences, health sciences, and social sciences.
The eBooks in this collection are:
DRM-Free – no limits on pdf downloads or printing.
Allow for unlimited simultaneous users – multiple students, faculty, and staff can access the eBooks at the same time.
The ScienceDirect eBook Collection is searchable two ways within the Library catalog.
ScienceDirect eBooks are included within the existing ScienceDirect platform and can be accessed via the ScienceDirect database. The ScienceDirect database includes the full text of 175 Academic Press journals.

Go to the Library's Database page and use the A-Z Database Menu to find ScienceDirect under "S".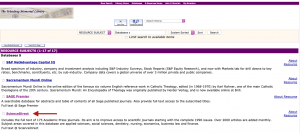 Clicking on ScienceDirect will take you to the ScienceDirect Platform where you can search all of their content.
Or
You can search the catalog for (ScienceDirect eBook Collection) in the catalog search box.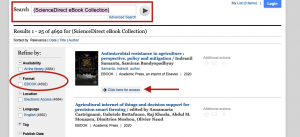 The "Click here to access" link will take you to the eBook where you can read full-text online, download the entire book, or download only the chapter you need.
If you want to narrow by subject – use the Advanced Search.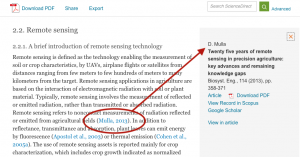 An interesting and useful feature ScienceDirect eBooks have is Cross-Referenced Linking Capabilities. If reading full-text online, this feature allows the user to click on an in-text citation to be provided with the full citation as well as a link to the article or a pdf download if the item cited is available on ScienceDirect.
As of March 31st the library currently has over 4,600 eBook titles available for use. Access to these eBooks will expire on March 22, 2021. Faculty, please contact your library liaison if permanent acquisition is desired.
As always, if you have any questions regarding accessing materials via the Library Catalog, please feel free to contact us.