The Environmental Art Show Virtual Exhibit is Online Now!
You can view the exhibit at: https://digitalprojects.scranton.edu/s/environmental-art-exhibit/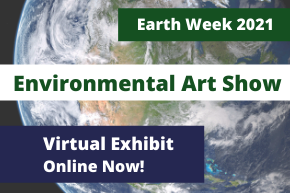 The 2021 Earth Week theme is Caring for our Common Home.
Submissions for our first virtual exhibit showcases artwork from faculty and staff that document sustainability efforts and take us on photographic journeys to natural environments and habitats from Pennsylvania to around the globe. The exhibit also takes a look back at some previous in-person Environmental Art Show Exhibits.
Environmental Art promotes the natural beauty of our environment and the ideal practice of sustainable living through artworks of all types, including painting, photography, repurposed goods, sculpture, and more.