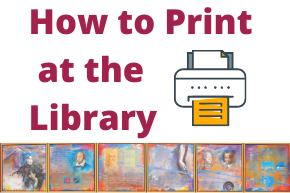 With the help of IT, the Library upgraded its printing services over the summer. Below are the instructions to follow for printing from any device on-campus. You can also visit this guide for instructions for off-campus and additional support for printing, photo-copying, and faxing.
You can print from any device on-campus using the following steps:
Open a browser and type in the address: pharos.scranton.edu 
For the Username and Password, type in your Royal ID number and password.
When the Print Center main page opens, click on "Upload" to select the file(s) you want to print.
Locate the file to print on your device, select it, then click on "Open". You can upload multiple files.
When the Print Center displays your job in the print queue, click on the job(s) you want to print. At the bottom of the screen, select your options for printing (color, double or single sided, page range, pages per slide, number of copies). The cost of the print will be listed on the right of the selected print job.
Select where you want the job to print by choosing a printer from the drop-down listing "Select a printer" and then click "Print."
A confirmation dialog box will appear with the cost and location of the printer you selected. You can go back to make changes or click on "Confirm" to print. Your print job is sent immediately to the printer you selected, and a confirmation notice will appear.
Go to the selected printer and pick up your job.