Thanks to a generous gift from the Friends of the Weinberg Memorial Library, the Library recently completed phase 1 of its second-floor renovation plan. The $100,000 gift from the Friends Endowment allowed us to redesign the student area at the top of the grand staircase, refresh and update the open computer lab, and create a Collaborative Teaching Space for Information Literacy Instruction and research consultations. The gift went toward improving the carpeting, lighting, and color palettes as well as a variety of new seating options, writing surfaces, and technology layouts.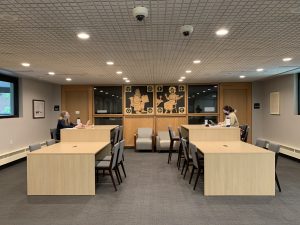 Students enjoy the new counter height laptop tables as well as the dining room height tables, with power outlets built-in.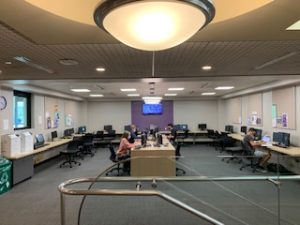 The computer lab area is refreshed with new built-in tables and fewer desktops to provide students with more table space for their course materials and research. The printers and book scanner are conveniently located on the left side of the room, and students have the option of utilizing dual monitors or plugging their personal computer into a library-provided screen.
The new Collaborative Teaching Room provides librarians with another classroom for small group Information Literacy Instruction as well as a new space for librarian-hosted research consultations and meetings.
On behalf of the Library faculty and staff, we wish to express our sincere gratitude for the fundraising efforts of the Friends of the Weinberg Memorial Library. The gift from the Friends' Endowment is a spectacular start toward our overall plan to renovate the second floor.