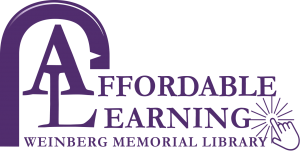 The Library invites University of Scranton Faculty to join us during Open Access Week on Wednesday, October 27th, at 11:00 am on Zoom to discuss implementing Open Educational Resources (OER) and affordable learning materials in the classroom.
Discussion will include an introduction to OER, how to locate OER and other open materials within the Library's collection and online, and suggestions for how you can replace costly textbooks and other resources with OER and/or appropriately licensed library resources. We will also discuss a new trial database, CloudSource OA, and workshop with attendees to utilize this resource that curates and aggregates open access publications and open educational resources from leading academic publishers and universities.
Librarians will also answer questions about OER and the Affordable Learning Implementation Grants (formerly the Open Educational Resources Grants), available to full-time Faculty and accepting applications until November 19th.