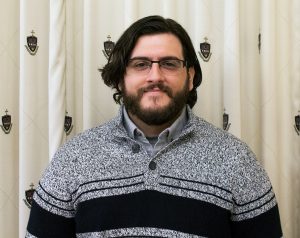 The faculty and staff of the Weinberg Memorial Library sadly share news of the passing of our dear colleague and friend Christian Scipioni, Special Collections Assistant. He died at his home on Friday, February 18, 2022.
Christian joined the staff of the University in 2018. He cherished his role in preserving for and sharing the treasured documents, manuscripts, and texts of the Library's McHugh Family Special Collections and The University of Scranton Archives. He was an active participant in the Library's Communication and Outreach Committee. In this role, he regularly used the McHugh Family Special Collections and The University of Scranton Archives to publish on the Library's various social media accounts and to create the Library's annual Christmas card.
Christian was proud of his work assisting with Special Collections exhibits in the Library's Heritage Room. He also helped to promote these exhibits by creating posters and other graphic designs that utilized images from rare documents.
Christian was a Magna cum Laude graduate of St. Joseph's College, Patchogue, New York, earning a Bachelor of Arts degree in English. He also earned a Master of Library and Information Science from St. John's University. Before joining the University community, he worked as a Cataloging Technician for the New-York Historical Society.
Christian is survived by his parents, Robert and Camille Scipioni of Northport, New York. In lieu of flowers, Christian's family asks that donations in his memory be given to the McHugh Family Special Collections via the Weinberg Memorial Library Fund.
On Tuesday, Fr. Joseph Marina, President of The University of Scranton, shared the following prayer when he notified the University community:
Eternal life grant unto him, O Lord, and let perpetual light shine upon him. May he rest in peace. May his soul and all the souls of the faithful departed rest in peace. Amen.