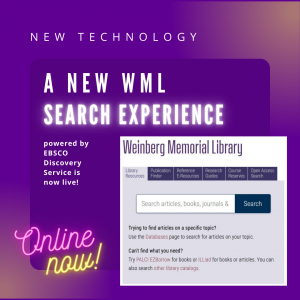 The Weinberg Memorial Library is excited to announce a new search experience that all starts with a single search box.
EBSCO Discovery Service (EDS) is a new tool that will provide a single-entry point for all of the Library's collections.  Using this single, unified search, you can now find books, eBooks, journal articles, and streaming media from across the Library's databases, electronic resources, and print and media collections.  With easy filtering options, you can limit your results by date of publication, publisher, subject, and more.
While you can still look for individual databases in our newly redesigned A-to-Z database list, EDS will fully integrate results from many of our most popular databases meaning you won't have to conduct the same search across multiple sites.
Want to learn more?  Check out our quick start guide or go to the Library's homepage to start searching today!