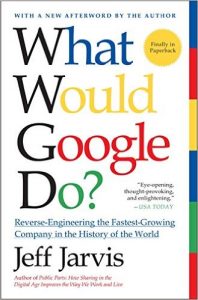 Google's overall mission is to organize the world's information and make it universally accessible and useful (https://www.google.com/intl/en/about/). Google has seen success regarding ease of use and access to different apps, for example, it is the world's most heavily utilized search engine (https://searchenginewatch.com/2016/08/08/what-are-the-top-10-most-popular-search-engines/), Gmail is a widely popular personal e-mail service, Google Scholar and Books provide access to research, and Google Sites offers free webspace for personal websites. However, as Google technology continues to transform our lives, it is important to take a step back and learn more about Google, its history, impact on society, and its apps.
Here are a few resources on Google available through the Weinberg Memorial Library:
* Google search secrets by Michael P. Sauers and Christa Burns. E-book available through the WML: http://weinberg.scranton.edu/search?/dgoogle/dgoogle/1%2C27%2C127%2CB/frameset&FF=dgoogle&16%2C%2C32/indexsort=-
* Googling security: how much does Google know about you? by Greg Conti.
Call # QA76.9.A25 C6678 2009 Circulating Collection (3rd Floor)
* Google world directed, DVD produced and written by Ted Remerowski.
Call # TK5105.885.G66 G66 2010 Media Resources Collection (3rd Floor)
* What Would Google Do? by Jeff Jarvis.
Call # HD30.2 .J375 2009 Circulating Collection (4th Floor)