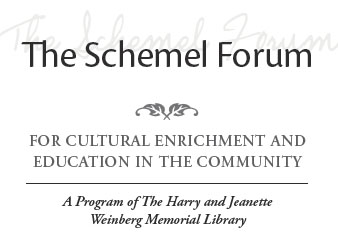 The Second Annual University for a Day
Saturday, September 12, 2009
8:45 a.m. to 5:15 p.m.
Start the new season thinking! We invite you to join us for a day of listening to, reflecting on and talking about some ideas and people that have changed our world.  Take part in this feast for the mind at The Schemel Forum's second annual University for the Day.
Full Schedule:
8:45am – 9:30am Registration

9:30am – 10:45am Toni Morrison's A Mercy: A Paradigm and a Cautionary Tale of Interdependence in a New World (presented by Stephen Whittaker, Professor of English and Theater)

11:00am – 12:15pm Rosalind Franklin: Another Twist in the DNA Double Helix (presented by Janice Voltzow, Professor of Biology)

12:30pm – 1:30pm Buffet Luncheon

1:45pm – 3:00pm The Best Way to Rob a Bank is to Run it: White Collar Crime and the Global Financial Crisis (presented by David Friedrichs, Professor of Sociology and Criminal Justice)

3:15pm – 4:30pm Globalization: For Better and Worse (presented by Goodwin Cooke, Professor of International Studies at Syracuse University)

4:30pm – 5:15pm Reception

All this plus morning coffee, lunch and a closing wine reception in very good company for a very low price! Free to current Schemel Forum Members. $25.00 Schemel Forum Non-Members.  Reservations are required, so please register by contacting Kym Balthazar Fetsko, Schemel Forum Events Coordinator, at 570-941-7816 or fetskok2 (at) scranton (dot) edu.  Also be sure to check out the full Schemel Forum fall schedule!
University for a Day is made possible through the generous support of the Neighborhood Development Trust Fund and the Scranton Area Foundation.