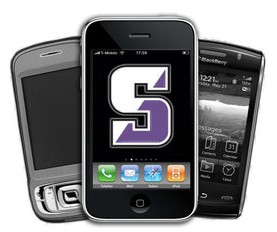 On February 16, our Spring 2011 Technology on Your Own Terms workshops will begin with The Insider's Guide to Smartphones, to be held from 12pm-1pm in WML305.
In this workshop, digital services librarian Kristen Yarmey and technology services analyst Diane Jachimowicz will discuss some of the technology behind smartphones like iPhones, Androids, and Blackberries.  We'll talk about what terms like 3G, 4G, tethering, and jailbreaking mean in plain English, what sensors like accelerometers and compasses mean for average users, how operating systems like iOS and Android differ, and what phone features to look out for in 2011 and beyond.  A light lunch will be provided during the discussion.
All faculty and staff members are welcome, but seats are limited, so please register at www.scranton.edu/ctleregistration (under Technology On Your Own Terms).