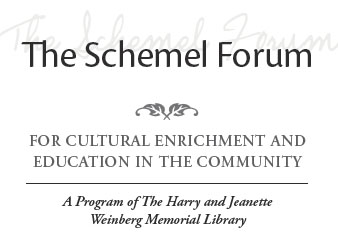 What's the best way to beat the post-holiday blues? How about thinking Spring by thinking Schemel?
Our Schemel Forum Spring 2012 schedule is out, and it's packed with captivating speakers and sessions to steal your attention away from the winter gloom:
At our World Affairs Luncheon Seminars, you'll learn how governments can respond to pandemics in Africa, how we can feed the planet without destroying it, why business won't change the world, how the Arab Spring is affecting the Middle East, and how FDR's Four Freedoms are more relevant than ever.
In our Evening Courses, you can study the films of Frederico Fellini, the political implications of Occupy Wall Street, and delve into the madness and mystery of Charles Dickens' Bleak House.
In our new collaborative programs, you'll enjoy a poetry reading with Nell Regan and a political roundtable with Elizabeth Randol.
And by joining our Spring bus trip, you'll get to explore the Roosevelt Library and the Storm King Art Center as well as a lunch stop at the Culinary Institute of America.
If you still need convincing, take a few minutes to listen to Schemel Forum director Sondra Myers talking over this season's Schemel Forum events with WVIA's Erika Funke.
As always, registration is required, so please contact program coordinator Kym Fetsko at fetskok2@scranton.edu to make your reservation or to find out more about our programs.