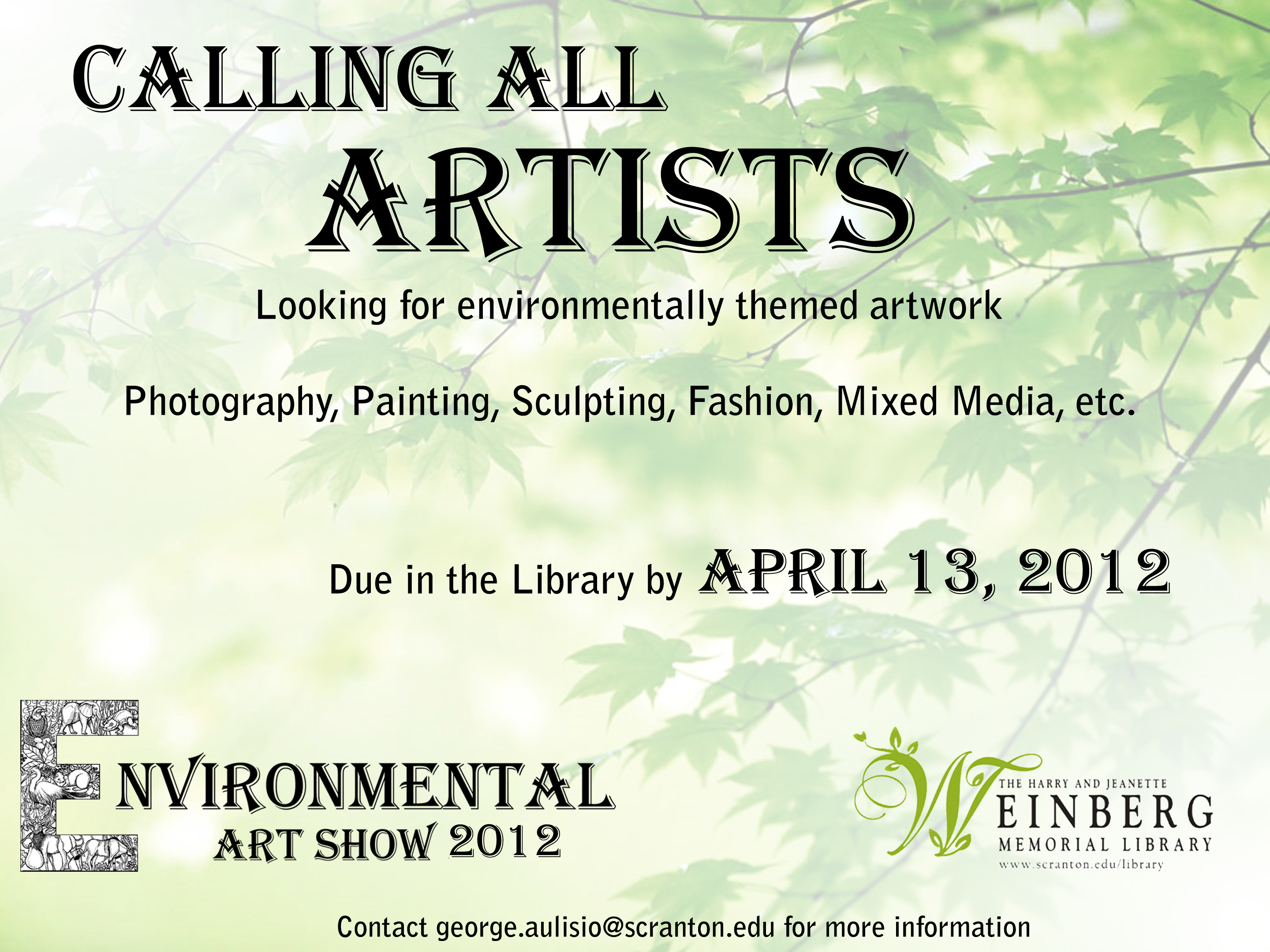 In honor of Earth Week, the library will be hosting its 2nd Annual Environmental Art Show. The purpose of the Art Show is to promote sustainability and raise awareness about environmental issues. In addition, the exhibit will showcase the talents of the University community. This is an open call for artwork, so any student, staff, or faculty member interested in submitting to the Environmental Art Show is welcome.
All types of environmentally themed art are welcome, this includes photography, painting, sculpting, graphic design, altered images, fashion, and any other area of creativity. Submissions must be environmentally themed. Examples of environmentally themed art include nature scenes, wildlife, humanity's effect on the environment, clothing made from recycled or re-purposed goods, and creative messages about sustainable issues. For photos from last years exhibit please see our flickr album. Any and all questions should be directed to george.aulisio@scranton.edu. There is no limit on submissions. However, not all submissions will necessarily be displayed. All artwork will be returned by the end of the semester.
Submissions are asked to be ready for display (within reason). This means, for example, that photographs and paintings are matted or framed, any artist who has special display needs should contact George Aulisio. Please bring your submissions to the library's Reference Desk or Circulation Desk before April 13, 2012.
The Environmental Art Show will be held in the Heritage room and runs from Monday, April 16 until Wednesday, April 25. There will be an opening night reception on the evening of April 16th for a chance to meet the artists and discuss their artwork.
For any additional questions please contact george.aulisio@scranton.edu.