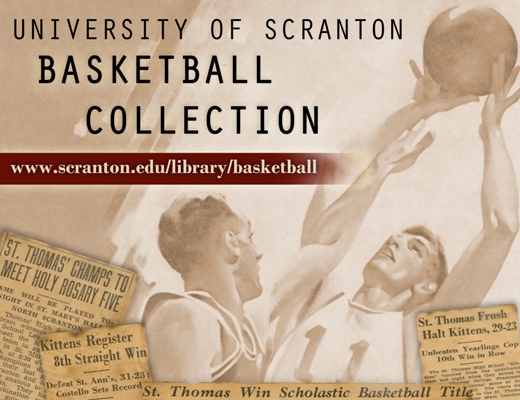 Here's something we've been working on for a while as part of our ongoing digitization of materials from the University Archives: The University of Scranton Basketball Collection. We haven't yet digitized the whole archival collection, but we thought we'd go ahead and make the part that *is* done available to all of you – especially with the University's 125th Anniversary coming up!
So far, the digital Basketball Collection includes more than 600 photographs and documents, dating from 1917 through 1979, that relate to basketball at St. Thomas College and the University of Scranton. The collection includes team and player photographs, game programs, rosters, and selected newspaper clippings. Most of the material is from the 1920s-1950s, but we'll be adding content from more recent years as we're able to digitize it. Don't forget, of course, that the original photographs and documents are available in the Library's University Archives and can be viewed by appointment.
We hope that the collection will interest our alumni as well as our current students, faculty, staff, and friends.  Please let us know at digitalcollections@scranton.edu if you have questions or suggestions for us — or if you recognize one of our unidentified photographs! If you like what you see, make sure you take a second to browse through our other digital collections.