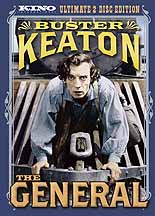 What do you do when the love of your life and your beloved locomotive are stolen from you by enemy troops?   If you're Buster Keaton, you deliver laughs and excitement while doing whatever it takes to recover what is yours!
The General is a 1926 silent film set in the midst of the American Civil War. Keaton plays Johnny Gray, an engineer whose train, The General, is stolen by Northern spies while the lovely Annabelle Lee is on board. Gray embarks on a daring adventure to save the day.
 Consistently ranked among the greatest films ever made, The General, captures the visual aspects of the Civil War while being thoroughly entertaining. 
 Join us for this free event on Friday October 18, 2013 at 7:00 p.m. in Room 305 of the Weinberg Memorial Library.  Kevin Norris will lead a discussion following the film. 
This screening is being held in conjunction with the Lackawanna County Library System's Scranton Reads event and is open to the public.
 Contact Sharon Finnerty at sharon.finnerty@scranton.edu for reservations.