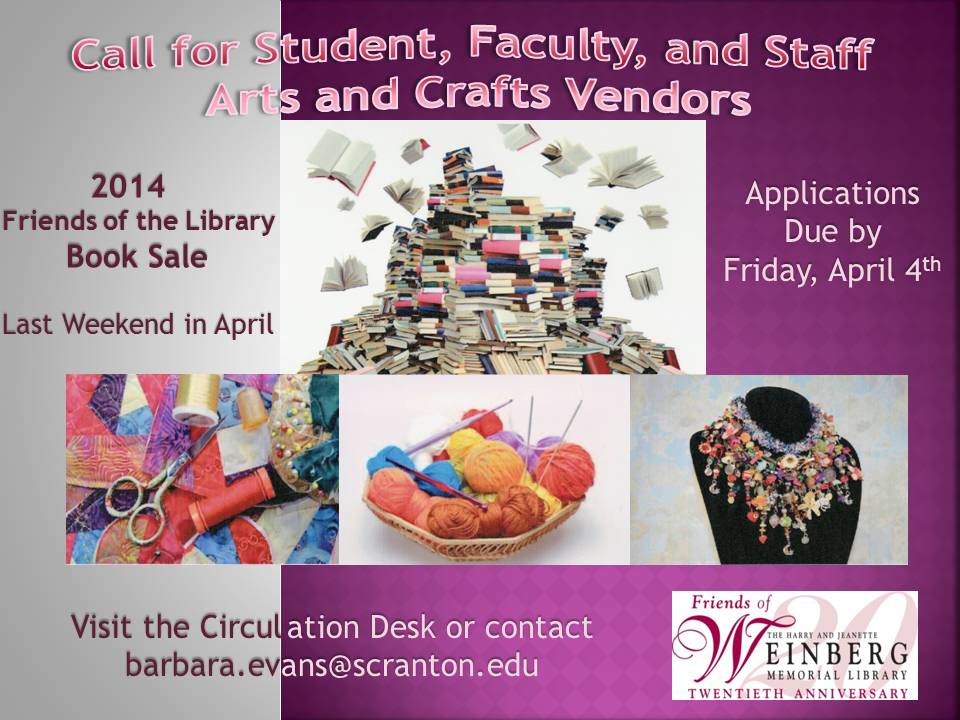 The Friends of the Weinberg Memorial Library are currently seeking applications from University of Scranton student, faculty, and staff Arts and Crafts vendors for the 2014 Annual Friends of the Library Book Sale.  The annual Friends of the Library Book Sale will be held in the Library's 5th floor Heritage Room Friday, April 25th (preview sale for members and students), 4pm-9pm; Saturday, April 26th, 9am-9pm, and Sunday, April 27th, noon-4pm.
Vendor applications are due by Friday, April, 4th. Vendors will be notified of acceptance by Friday, April 11th.  Approval of applications is space permitting. The Friends of the Library accept only vendors who are selling items that they have created themselves and reserve the right to reject any applicant who does not meet these criteria.
The table space fee is $5.00 per day due prior to table set-up each day with a discounted fee of $10.00 for table space for all three days. The Friends of the Library are not responsible for the loss or damage to any items. The vendors are required to properly staff their tables and are responsible for the sale and security of their merchandise.
For more information or to fill out an application, please visit the Library's Circulation Desk or contact Barb Evans at (570) 941-4078 or barbara.evans@scranton.edu.