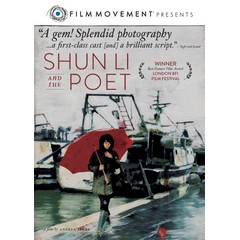 Please join us at 7:00 p.m. on Friday March 28, 2014 in Room 305 of the Weinberg Memorial Library for a free presentation of the Italian drama Shun Li and the Poet. Professor Allison Lai will lead a discussion following the film.
This award-winning film tells the story of two outsiders who become unlikely friends. Shun Li works in a textile factory near Rome, slowly paying off the broker that brought her from China to Italy, while saving money so she can bring her young son to join her. She is suddenly transferred to work as a bartender at a pub in a small fishing village along the Venetian Lagoon. The pub is the hangout of the local fishermen, including Bepi, a handsome old Slav immigrant nicknamed "The Poet."  A delicate friendship, based in part on their love of poetry, grows between Shun Li and Bepi, but the locals don't approve, and gossip soon threatens their innocent relationship. Zhao Tao earned Best Actress honors at the 2012 David di Donatello Awards for her portrayal of Shun Li.
Directed by Andrea Segre, Shun Li and the Poet is in Italian and Mandarin with English subtitles.
This event is open to faculty, staff, students and the public. Please email sharon.finnerty@scranton.edu for reservations.