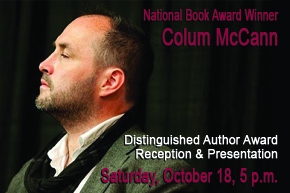 Saturday, 18 October, 2014
5:00 PM
The University of Scranton will present the
Royden B. Davis Distinguished Author Award
to author and scholar Colum McCann.
McCann was born in Ireland and he is the author of six novels and two collections of stories. He has been the recipient of many international honors including the National Book Award and the International Dublin Impac Prize.
To register, visit: www.scranton.edu/authaward
Questions, contact Kym Fetsko at kym.fetsko@scranton.edu, or call 570-941-7816.