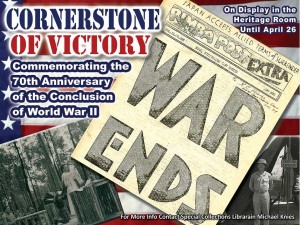 Millions of young Americans served in the armed forces from 1941 to 1945, including many students and alumni of The University of Scranton.  To commemorate the 70th anniversary of the formal conclusion of World War II, the Heritage Room is featuring an exhibit, Cornerstone of Victory, as a tribute to all of the men and women, particularly our veteran alumni, who went into harm's way to serve their nation.  The exhibit is based on materials from the Helen Gallagher McHugh Special Collections and the University Archives. Although the McHugh Special Collections does not specifically collect material on World War II, a number of collections have relevant material that highlight the impact that this tragic event had on the University, our nation, and the world.
Two history talks and an exhibit reception will be held on Thursday, April 9 at 6pm in the Library's fifth floor Heritage Room. This event is free and open to the public.
"From Harvard to Nuremberg: Father Fabian Flynn and His Service with the 26th Infantry Regiment 1943-1946″ by Dr. Sean Brennan.
Fr. Fabian Flynn was an American priest from the Passionist order who spent the years of 1943 to 1962 in Europe and who served as a military chaplain during World War II.
Dr. Sean Brennan is an Associate Professor of History at The University of Scranton. He specializes in the History of 20th Century Europe, especially in the 1940s and 1950s.
The Impact of World War II on The University of Scranton by Dr. Francis X. J. Homer
The University of Scranton underwent a transition from Christian brothers to Jesuit stewardship in 1942. Besides the change from the Christian brothers to the Jesuits, the University was significantly affected by the war, as were all other institutions of higher learning as young men went to war instead of University.
Dr. Frank Homer is a Professor of History Emeritus and serves as The University of Scranton Historian.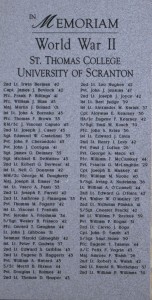 The event is sponsored by the Friends of the Weinberg Memorial Library.
Click here for more information about the exhibit, which is on display in the Heritage Room until Sunday, April 26, 2015 during normal library hours.
For additional information, please contact Michael Knies, Special Collections Faculty Librarian, (570) 941-6341 or michael.knies@scranton.edu