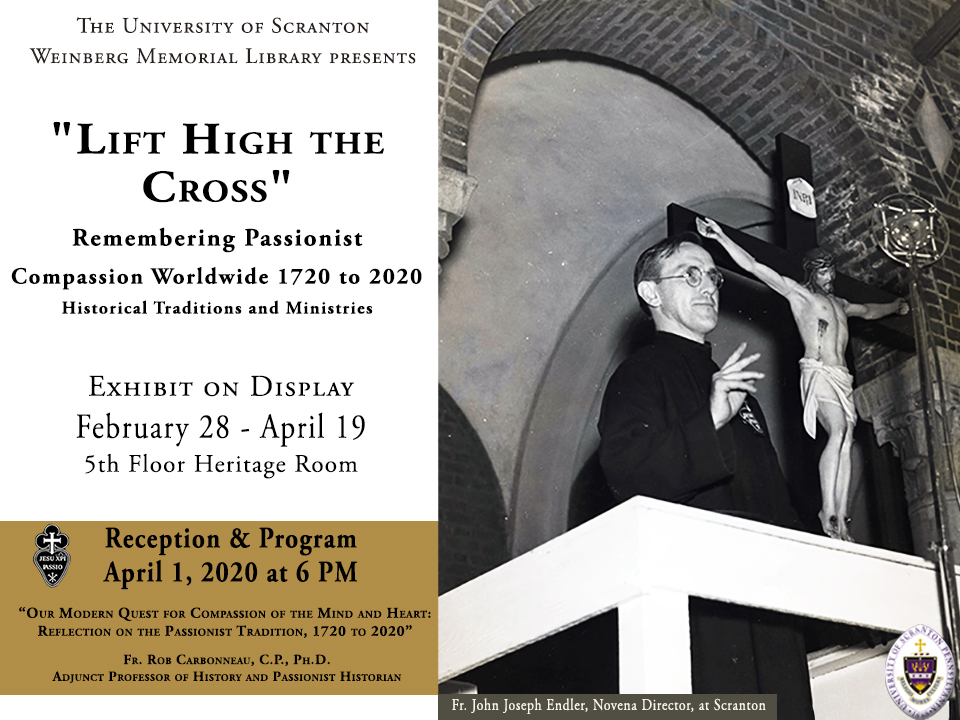 Aware that so many of us carry everyday crosses in life, Italian St. Paul of Cross (1694-1775) founded the Passionist Congregation in 1720. This exhibit shows how Passionist priests, brothers, sisters, nuns and the peoples of the world have found compassion through the wisdom of Jesus on the Cross. See how sacred Passionist relics and inspirational art invites us to meditate on contemporary faith and healings and how artifacts and photos offer an understanding of Passionist monastic traditions and Scranton's devotion to Good St. Ann.  The diversity of Passionist ministry is represented by scholars, various media and a commitment to peace and justice.   
On April 1, Fr. Rob Carbonneau, C.P., Ph.D., Adjunct Professor of History at the University of Scranton and Passionist historian will offer a free public lecture entitled "Our Modern Quest for Compassion of the Mind and Heart: Reflection on the Passionist Tradition, 1720 to 2020."   
The Heritage Room exhibit will run through April 19. For more information please contact Special Collections Librarian Michael Knies at 570-941-6341.