If you've walked into the Weinberg Memorial Library even once in the past three years, you've undoubtedly come across the work of this week's spotlighted student worker, April Francia '15.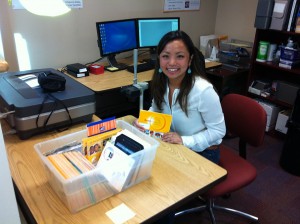 Since joining the Library in January 2012 as a Digital Services Technology Consultant, April has made significant contributions to all sorts of different Library projects. Here's a just a small sampling of her work:
While April jokes that the Library is her second home, she's made her mark in many areas outside of our building. She is a double major in Philosophy and Political Science and a member of both the Honors and Special Jesuit Liberal Arts (SJLA) programs. (We once heard Dr. Parente compliment her coursework – and as many University community members know, praise from Dr. Parente is high praise indeed!) She is assistant editor of the Windhover, vice-president of the Pre-Law Society, a Royal Ambassador, and a student facilitator for Scranton Emerging Leaders. She's completed internships with the Institute for Public Policy & Economic Development and the offices of U.S. Senator Robert P. Casey, Jr. and Pennsylvania State Representative Doyle Heffley.  When she takes some time off to relax, you might find her hiking, reading, baking, or watching House of Cards on Netflix.
What's next for April? She's currently weighing multiple law school acceptances and plans to work towards a career in law or policy analysis. Whatever direction her path may take, we know it will lead to success. While we don't know what the heck we'll do without her when she graduates this May, we'll be proud to see April go and set the world on fire, and we'll be cheering her on all the way.