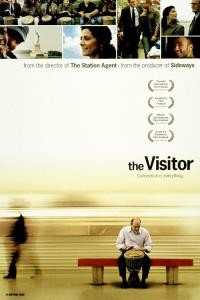 Please join us on Tuesday May 12th at 7 p.m. in the Moskovitz Theater in The DeNaples Center for a free presentation of "The Visitor". "The Visitor" tells the story of an economics professor, Walter Vale, who after losing his wife has lost his passion for teaching. When Walter's college sends him to a conference in Manhattan, he is surprised to discover that a young couple has moved into his seldom-used apartment in the city. Tricked in a real estate scam, the couple, Tarek and Zainab, have nowhere to go. Walter allows the couple to stay in his apartment and unexpectedly develops a connection to them that invigorates his mundane life.  When Tarek is arrested and taken to a detention center, Walter is compelled to help which gives new focus to his life.
A New York Times Critics Pick, "The Visitor" is directed by Tom McCarthy and stars Richard Jenkins. "The Visitor" is in English.
This film is open to faculty, staff, students, and the public. Please email Sharon.finnerty@scranton.edu for more information.