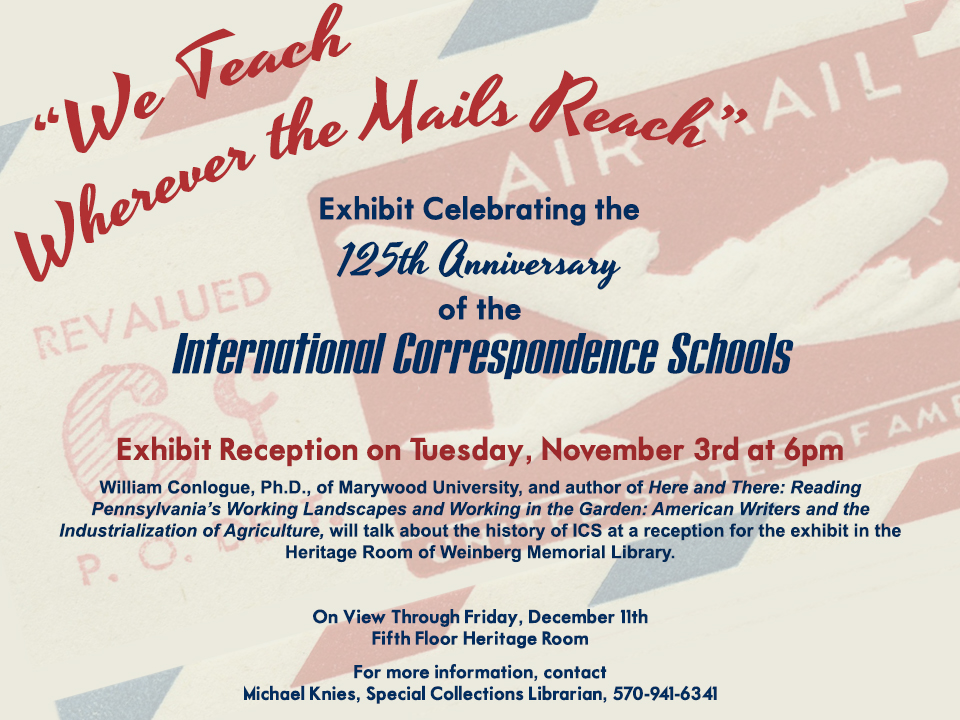 On Tuesday, November 3 at 6pm the Weinberg Memorial Library will host a reception for "We Teach Wherever the Mails Reach," an exhibit celebrating the 125th anniversary of the International Correspondence Schools of Scranton (ICS). This event is free and open to the public.
Professor William Conlogue of Marywood University, and author of Here and There: Reading Pennsylvania's Working Landscapes and Working in the Garden: American Writers and the Industrialization of Agriculture, will talk about the history of ICS at the reception for the exhibit in the fifth floor Heritage Room of the Weinberg Memorial Library.
Founded in 1890, ICS originally grew out of a question and answer column written by Thomas J. Foster, publisher of Colliery Engineer and Metal Miner. Foster's column helped mine workers, many being recent immigrants with limited English, to pass required mine safety exams. The column proved so successful that Foster created a correspondence course on coal mining.
Over the years ICS expanded into a variety of technical fields as well as providing basic courses in English. The company has been a leader in career-focused distance and blended learning for over 125 years. More than 13 million people have enrolled in their programs to further their education and learn advanced skills to better position them for life success.
ICS has changed names a number of times since 1996. The ICS location is currently operated by Penn Foster Career School, which is a regionally and nationally accredited post-secondary distance education school and considers ICS to be its predecessor.
In 2002, the Weinberg Library was given a collection of ICS materials by the company. These materials, primarily from the ICS marketing department, are the focus of this exhibit celebrating the history of the company.
The exhibit will be on display in the Weinberg Library's fifth floor Heritage Room through Friday, December 11, 2015. For more information, please contact Special Collections Librarian Michael KniesMichael.Knies@Scranton.edu (570) 941-6341.