The library, archives, and museum world is abuzz this week with #ColorOurCollections, a weeklong cultural heritage coloring fest dreamed up by the New York Academy of Medicine and the Biodiversity Heritage Library.
As coloring fans ourselves, we couldn't help but toss our hat into the ring. We've already shared a University Archives coloring book this week, but today we turn our gaze outward to our beloved city of Scranton.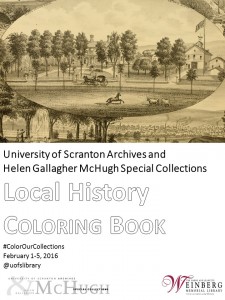 Local History Coloring Book (PDF)
All of the pages in the book were created using images from the Library's digital collections, most of which were digitized from original drawings, photographs, and publications from our University Archives and Helen Gallagher McHugh Special Collections.
We hope you enjoy our book, and we can't wait to see what colors you bring to our collections!