This Saturday is Charter Day, Scranton's celebration of the 150th anniversary of its incorporation as a city. There will be lots of events going on all day, but here's another festive option for creative Scrantonians: Charter Day Coloring Pages!
These Coloring Pages were a collaborative effort between the Lackawanna Historical Society, the Lackawanna Valley Digital Archives, the Leadership Lackawanna #HistoricScranton team, and the University of Scranton Weinberg Memorial Library (we had way too much fun working on our Local History Coloring Book back in February and couldn't resist coming back for more!).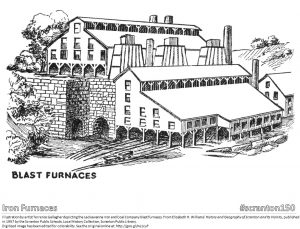 The pages feature images of the city and its past. Leadership Lackawanna's #HistoricScranton coloring pages, created as part of a current class project with the Historical Architectural Review Board, highlight historic buildings and architecture. The remaining pages hold digitized drawings from local history collections housed at LHS, the Scranton Public Library, and our own University Archives and Helen Gallagher McHugh Special Collections. (We also included a few images from books digitized by other libraries that are now in the public domain.) Each digitized image is accompanied by a citation describing the image and its source.
LHS will be printing out pages for coloring contests to be held throughout this week, but you can also download a digital copy and print out your own. Happy coloring, and happy birthday Scranton!
Many thanks to all our partners, and extra special thanks to our Weinberg Memorial Library students and staffers who helped with selecting images and making them coloring-friendly!