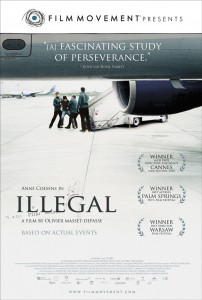 Please join us on Friday March 11, 2016 at 7 p.m. in Room 305 of the Weinberg Memorial Library for a free presentation of the Belgian drama "Illegal."
Film Movement describes the film as the story of Tania a former teacher from Russia, living illegally in Belgium with her son, Ivan. One day she is stopped for a routine check by the police and is arrested. Separated from Ivan, who manages to escape, she is placed in an immigration detention center for women and children. While utterly refusing to face expulsion, Tania begins a fight to preserve her dignity, identity and humanity, as well as find her son.
Directed by Olivier Masset-Depasse, "Illegal" is in French and Russian with English subtitles. Dr. Marzia Caporale will lead a discussion following the film.
This event is open to faculty, staff, students, and the public. Please email sharon.finnerty@scranton.edu for more information.