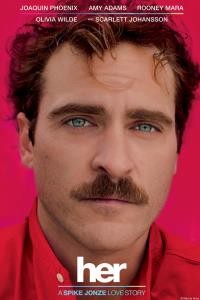 Set in Los Angeles in the not-too-distant future Her leaves the viewer with plenty to think about and discuss. It tells the story of Theodore a lonely writer who is having trouble accepting the break-up of his marriage. When he purchases a new operating system, OS1, which is advertised with the words "It's not just an operating system; it's a consciousness," his life begins to change. Before long Theodore comes to depend on "Samantha," the voice of his constantly evolving operating system. When the relationship becomes intimate, it leaves both of them wondering if a romance between a human being and a cyber consciousness can be sustained.
Directed by Spike Jonze, Her is in English and stars Joaquin Phoenix and Amy Adams.
Please join us on Wednesday April 13th at 7 p.m. in Room 305 of the Weinberg Memorial Library for this free event. Professor Donna Witek will lead a discussion following the film.
Please note: This film portrays adult situations and language.
This event is open to faculty, staff, students, and the public. Please email sharon.finnerty@scranton.edu for more information.