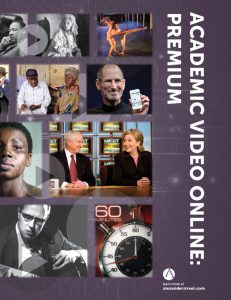 The Weinberg Memorial Library began streaming video in 2011, but the recent subscription to Academic Video Online: Premium from Alexander Street offers our community an extraordinary breadth of content. With over 48,000 video titles Academic Video Online: Premium is the largest and most comprehensive video collection available to libraries.
Subject areas of particular strength include Counseling and Therapy, Business and Economics, Education, History, and Theater and Drama. Academic Video Online: Premium contains the full contents of about 30 Alexander Street collections including some like The Video Journal of Counseling and Therapy that were already in the Library's collection. Collections that are new to the Library include 60 Minutes: 1997-2014, Business Education in Video, The BBC Video Collection and Latin America in Video. Links to individual collections and Academic Video Online: Premium can be found in the databases and a complete list can be found on the Streaming Media web page. Students, staff and faculty may also access films by searching the Library's catalog.
Academic Video Online: Premium is available 24/7 and can be used on computers and mobile devices. Faculty, students and staff may use the films in classes, for research, at on-campus student club and organization meetings and at on-campus events promoted within The University of Scranton where no admission is charged.
Streaming media is a powerful pedagogical tool. The sights and sounds of streaming video bring an added dimension to research and education. Academic Video Online: Premium offers a breadth of content and a variety of features to make valuable information accessible to our students, faculty and staff.