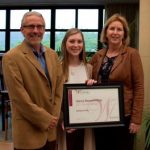 Kathleen Reilly is the winner of the 2017 Library Research Prize for undergraduate students. To complete her Honors Thesis, Girls at the "U": A History of Coeducation at the University of Scranton, she spent "countless hours" gathering information from primary documents located in the Helen Gallagher McHugh Special Collections and University Archives and on the Library's Digital Collections website.
The Weinberg Memorial Library inaugurated the prize in 2011 to recognize excellence in research projects that show evidence of significant knowledge of the methods of research and the information gathering process, and use of library resources, tools, and services.
Honorable Mention awards in the undergraduate category included Mariah Ruther, a senior Nursing major; Kerry Ann Randall, a junior Occupational Therapy major; and Michael Ramsthaler, a sophomore Exercise Science major.
Christina Gavalas and Marjorie Toron are the winners of the 2017 Library Research Prize for graduate students. They completed a group project for OT 501: Leadership in Occupational Therapy. Their research gathering included items on microfilm, items in the basement, and items in databases far removed from occupational therapy. In their application essay, they said how invaluable library staff members were to them.
An Honorable Mention in the graduate category was given to a group of Physical Therapy students–Katelyn Moyer, Daniel Dolphin, Robert Roncek, and Steven Roughton.
Prize winners were honored at a reception on Thursday, May 11, 2017 in the Heritage Room of the Weinberg Memorial Library.
Information about the Library Research Prize can be found on the website: http://www.scranton.edu/libraryresearchprize