In April the Weinberg Memorial Library acquired over 500 titles in the Very Short Introductions series. Written by authors who are subject experts in their field, these small books (most not over 150 pages) offer easy introductions to large and sometimes complicated subjects like the Bible or Astrophysics and influential individuals like Gandhi or Freud.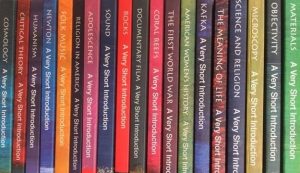 Each volume offers bibliographic references to allow for more in-depth study. They are an excellent option if you want to learn a little something about a large or complicated subject and a great resource to help you to find or narrow a topic for your next paper.
Throughout the month for May cataloging will be adding new titles in the series to the catalog.
So where can I find these you ask:
Type "Very Short Introductions" into the Catalog search box on the Library's home page at http://www.scranton.edu/academics/wml/index.shtml and hit search.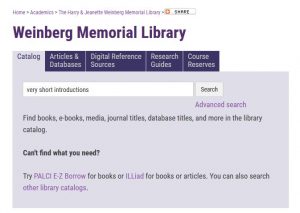 The catalog will retrieve a list of all of the copies we have in the current collection both book and ebook which can be sorted by title or refined using the facet menu on the left to narrow your search.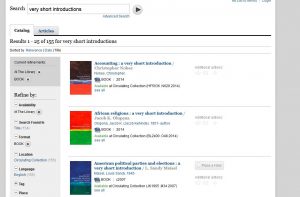 Do you have a subject you are particularly interested in and want to know if Very Short Introductions has something on your subject?
Let's use Astrophysics as an example:
Try an Advanced Search using keyword: "Astrophysics" and title: "Very Short Introductions"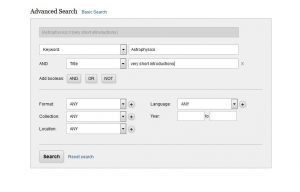 Your results screen will give you anything we have with the title Astrophysics in the Very Short Introductions series as well as any editions that may have notes or subjects related to the topic of Astrophysics.