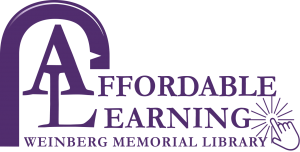 University faculty, please join us during Open Education Week on Wednesday, March 9th, at 11 am in WML 305 for coffee, cookies, and conversation about using Open Educational Resources (OER) and the Library's collection in your courses to reduce costs to students.
The discussion will include an introduction to OER, locating OER and other open materials online and in the Library's collection, and suggestions for how you can replace costly textbooks and resources with OER and/or appropriately licensed Library resources. Please bring any questions or ideas- there will be plenty of time for open discussion.
We will also answer questions about the Affordable Learning Implementation Grants, available to full-time faculty and accepting applications until April 15th.
Please email affordablelearning@scranton.edu with any questions.