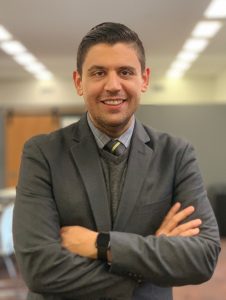 We are very pleased to share the announcement from Provost Jeff Gingrich on the appointment of our new Dean of the Weinberg Memorial Library.
It is with great excitement and gratitude that I am writing to announce that George Aulisio has accepted the position of Dean of the Weinberg Memorial Library. Dean Aulisio has been serving as the interim dean since July 1, 2021. His position as Dean is effective immediately.
Since Dean Aulisio joined the University community in 2009, he has been actively involved in multiple aspects of campus life. His internal service is wide-reaching, having served on 40 Library departmental committees and programs, as well as with nearly 40 broader University service projects and committees. He has served on the Hiring for Diversity Working Group, and Faculty Affairs Council Executive Committee and currently serves on Library Advisory Committee, Friends of the Library Board, Faculty Handbook Committee, the Graduate Programs Council, the Information Security Advisory Council, the Provost's Committee on Academic Policy and Compliance, the Faculty Personnel Committee and the Strategic Enrollment Council, among others.
Dean Aulisio is an active teacher and scholar. As a Research & Instruction Librarian, he works closely with students in research consultations and the Information Literacy program. He also regularly teaches philosophy courses and independent studies. His library scholarship focuses on sustainability and green libraries, open access initiatives, library orientation and instruction, and professional ethics and copyright law. He recently published a book on philosophy collection development for an imprint of the American Library Association, and he served as Editor of the Library Materials and Pricing Index from 2018-2022. His philosophy scholarship focuses on the philosophy of mind, Descartes's scientific endeavors, and comparative ethics.
His professional service includes holding elected officer positions on the Pennsylvania Library Association's Northeast Chapter and the College and Research Division. In conjunction with his role as Editor of the Library Materials and Pricing Index, he also serves as an appointed officer on ALA's CORE publications committee.
Dean Aulisio earned a Bachelor of Arts in Philosophy from Bloomsburg University, a Master of Science in Library and Information Science from Drexel University, a Master of Liberal Arts in Philosophy from the University of Pennsylvania, and is currently completing his Ph.D. in Philosophy from Temple University.
Congratulations, Dean Aulisio!