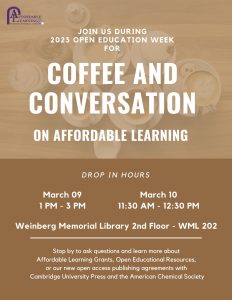 Please join us during Open Education Week for Coffee and Conversations on Affordable Learning.  The OER Committee will be hosting drop-in sessions on Thursday, March 9 (1pm-3pm)  and Friday, March 10 (11:30 am-12:30pm) on the 2nd floor of the Weinberg Memorial Library (WML 202).  Coffee and cookies will be served.
Feel free to stop in any time during those hours to ask questions or to learn more about the Library's Affordable Learning initiatives including Affordable Learning Implementation grants and our new open access publishing agreements with Cambridge University Press and the American Chemical Society.
We are also pleased to announce that applications for Affordable Learning Implementation grants are now being accepted for courses to be taught in the Fall 2023 or Intersession 2024 semesters.  All faculty members are welcome to apply, and applications will be accepted until Friday, April 28th.    Please see the Library's website for more information or click here to apply.