The Weinberg Memorial Library is pleased to welcome the Class of 2024 to The University of Scranton!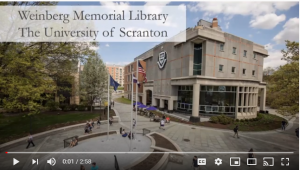 Please use the Library's Fall 2020 Services guide to stay up to date on current hours and services. This guide provides a listing of service hours, updates, and guidance on seeking research and citation assistance, as well as accessing the Library's print and online collections.
You can consult a University of Scranton Librarian during our Library hours by calling 570-941-4000 or by using the Ask a Librarian chat box. Research assistance is available 24/7 through the chat box, which is covered by librarians not affiliated with the University of Scranton outside service hours. Research consultations can be scheduled by using the Ask a Librarian chat box or by contacting your library liaison directly by email.
To find resources, such as books, periodicals, and media, search our catalog from the Library's home page; see our How Do I… guide for more details about searching the catalog and finding materials in the Library. You can also place a hold on materials for contactless pick-up of Library materials.
The Library's large collection of e-books, e-journals, and streaming media are available 24/7. Please see our Guide to Online Library Resources. To access the Library's online content, you must first authenticate through my.scranton.edu.
The InterLibrary Loan (ILL) service is available for requesting articles not currently accessible at our library. Books can be requested at this time through ILL or PALCI E-ZBorrow, but requests may not be filled due to limited lending partners. For ILL questions/concerns, please email interlibrary-loan@scranton.edu.
The Weinberg Memorial Library has five floors and offers a variety of spaces to support your study and research needs including computer workstations, individual study space, reservable group study rooms, quiet study areas, and the Heritage Room.
The library's Pro Deo room, Reilly Learning Commons, and the 2nd floor include printing stations, group study rooms, and lab computers. You can print from your own device, or you can watch this video to learn how to print from a Library computer (please ignore instructions after 1:42).
Circulation Services, located on the first floor, can help you check out and return print materials, laptops, and iPads. You can also pick up books placed on hold and InterLibrary loan materials.
The Reilly Learning Commons (RLC), located on the first floor, is a collaborative space with access to high-powered computers, video and audio recording rooms, and reservable group study rooms equipped with white boards and monitors.
The Media Resources Collection (MRC), located on the third floor, provides media materials for instructional support and student learning. The EdLab collection, found within the Media Resources Collection, consists of children's literature and textbooks. You can request materials from Media Resources by placing a hold or by appointment.
University of Scranton Archives and Helen Gallagher McHugh Special Collections, located on the fourth floor, collects, preserves and provides access to rare materials of historical value on local and University history. Appointments are required for Fall 2020. The Digital Services Department provides access to digital content related to University Archives and Special Collections.
If you have any questions, please email askalibrarian@scranton.edu.
We hope you have a great first semester!