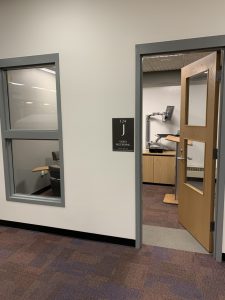 Did you know that if you if you need somewhere to do group work, have a virtual meeting, or record a podcast that the Weinberg Memorial Library offers spaces for that and more! There are group study rooms on floors 1-4 of the library that are available for Scranton students. They can be booked up to a week in advance for up to two hours in one day. 
If you know that you are going to need a space and want to make sure a room is available, you can book one of the rooms on the first or second floors! There are additional rooms on our quiet study floors, floors three and four, where the rooms can be used on a first-come-first-service basis.  
Some of the rooms even come with technology like large wall mounted monitors, which you can connect your devices to make group work more streamlined. There are even special rooms for audio or video recording! You'll also find low-tech tools like white boards—if you need a dry erase marker just stop by the Research Services desk or Circulation desk and ask.