Tag:
Abraham Lincoln birthday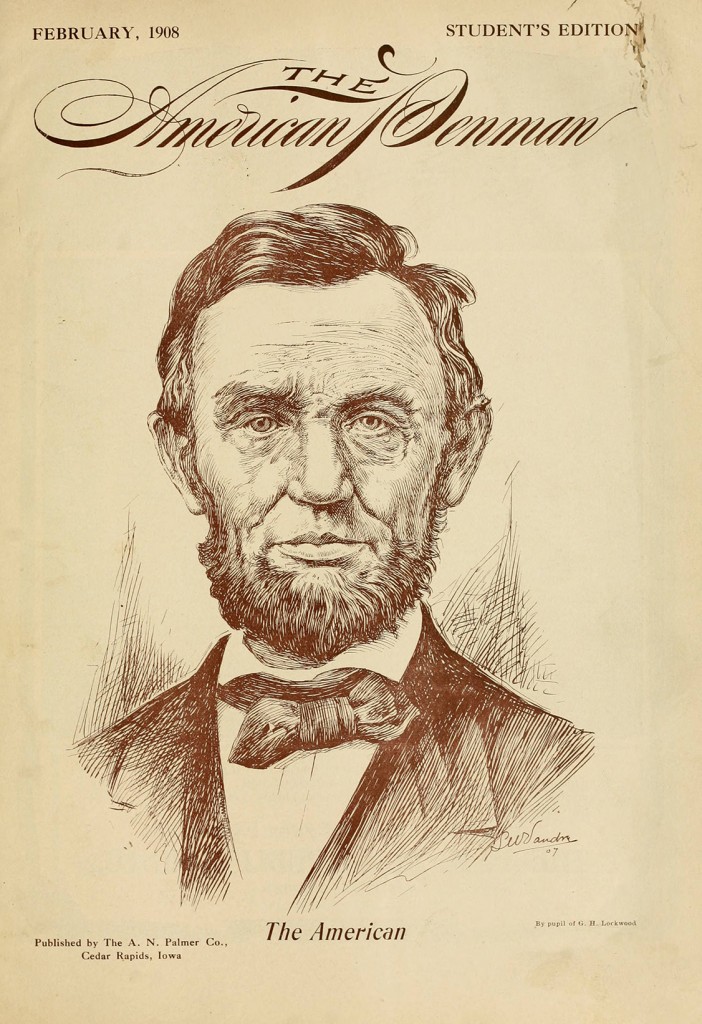 Portrait of Abraham Lincoln by a pupil of penman G. H. Lockwood, as published in the February 1908 issue of The American Penman. (from our Zaner-Bloser Penmanship Collection)
Here at the Weinberg Memorial Library, we're celebrating Abraham Lincoln's 200th birthday all month long, even though the big day isn't until Thursday (February 12th). Yesterday, we opened our display of the national traveling exhibit, "Forever Free: Abraham Lincoln's Journey to Emancipation," in the 5th floor Heritage Room.
The exhibit, organized by the Huntington Library and the Gilder Lehrman Institute of American History, will travel to 63 different libraries in 31 different states.  The Weinberg will be hosting the exhibit through March 22nd – to see it, just head up to the 5th floor anytime during the Library's regular hours.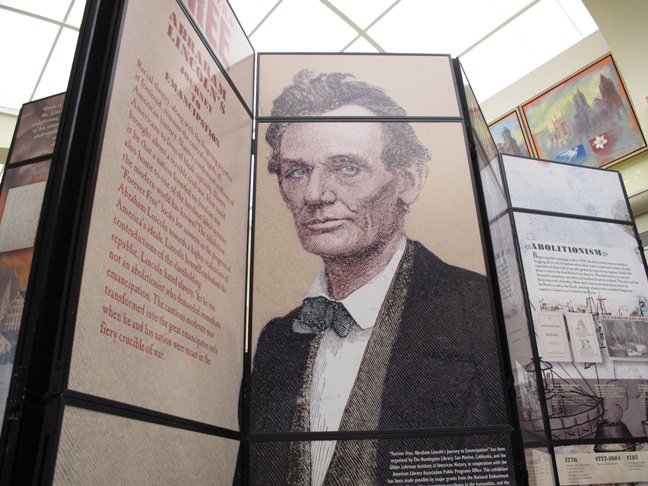 Want even more Lincoln?  There's still time to register for this Saturday's free Symposium and Exhibit Opening Reception.  We're excited to have three speakers share their knowledge of Lincoln and his time:
Best of all, we'll be visited by Lincoln actor and historian Jim Getty, who will bring the 16th president "alive" as we celebrate his memory.  To join us on Saturday, just call the Special Collections librarian Michael Knies at 941-6341 to register.  (And check out Michael's interview in yesterday's Scranton Times-Tribune!)
"Forever Free: Abraham Lincoln's Journey to Emancipation," a national traveling exhibition that focuses on Lincoln's quest to restore a Union divided by Civil War, opens at the Weinberg Memorial Library on February 9 through March 22. Organized by the Huntington Library, San Marino, Calif., and the Gilder Lehrman Institute of American History, New York City, in cooperation with American Library Association, this free exhibition shows how Lincoln's beliefs about freeing the slaves were transformed by war-time developments. "Forever Free" is made possible by major grants from the National Endowment for the Humanities (NEH) and the Abraham Lincoln Bicentennial Commission, created by Congress and charged with planning the national celebration of Lincoln's 200th birthday.
Weinberg Memorial Library is offering a free one-day conference Saturday, February 14, 2009, 8:30 a.m. until 2 p.m. The conference will feature four speakers discussing topics such as Emerson and Lincoln, the Abolitionist Movement in Pennsylvania, the Underground Railroad in Northeastern Pennsylvania and will include an appearance by Abraham Lincoln, as portrayed by Jim Getty. The conference will conclude with a 1 p.m. reception in the Weinberg Library Heritage Room to view the exhibit. The complete exhibit schedule can be found at http://academic.scranton.edu/department/wml/lincoln-event.html. Please contact Michael Knies, 570-941-6341 or Michael.Knies@Scranton.edu for more information and to register for the free conference.