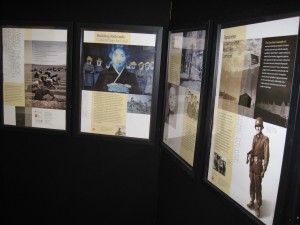 To celebrate the national Asian-Pacific American Heritage Month of May, Asian Studies in collaboration of Weinberg Memorial Library is hosting an art exhibit in the Library's 5th floor Heritage Room. These art posters from Smithsonian Museums are both educational and visual-stunning. They give a historical account of the journeys of Asian immigrants and Asian Americans–their struggles, contribution, and challenges.
About Asian-Pacific American Heritage Month:
May is Asian-Pacific American Heritage Month, a celebration of Asians and Pacific Islanders in the United States. A rather broad term, Asian-Pacific encompasses all of the Asian continent and the Pacific islands of Melanesia (New Guinea, New Caledonia, Vanuatu, Fiji and the Solomon Islands), Micronesia (Marianas, Guam, Wake Island, Palau, Marshall Islands, Kiribati, Nauru and the Federated States of Micronesia) and Polynesia (New Zealand, Hawaiian Islands, Rotuma, Midway Islands, Samoa, American Samoa, Tonga, Tuvalu, Cook Islands, French Polynesia and Easter Island).
Like most commemorative months, Asian-Pacific Heritage Month originated in a congressional bill. In June 1977, Reps. Frank Horton of New York and Norman Y. Mineta of California introduced a House resolution that called upon the president to proclaim the first ten days of May as Asian-Pacific Heritage Week. The following month, senators Daniel Inouye and Spark Matsunaga introduced a similar bill in the Senate. Both were passed. On October 5, 1978, President Jimmy Carter signed a Joint Resolution designating the annual celebration. Twelve years later, President George H.W. Bush signed an extension making the week-long celebration into a month-long celebration. In 1992, the official designation of May as Asian-Pacific American Heritage Month was signed into law.
The month of May was chosen to commemorate the immigration of the first Japanese to the United States on May 7, 1843, and to mark the anniversary of the completion of the transcontinental railroad on May 10, 1869. The majority of the workers who laid the tracks were Chinese immigrants.
Co-sponsors: Asian Studies Program and Weinberg Memorial Library. Special thanks to Professor Michael Knies, Dr. Linda Ledford-Miller, and Ms. Julee Modzelewski.
May 1-31 Library Art Exhibit. Heritage Room, 5th fl., Weinberg Memorial Library.
Free during library hours. For more information, call 570-941-7643.
Contact:
Ann Pang-White
Email: ann.pang-white@scranton.edu
Phone: 570-941-7643
Website: Click to Visit