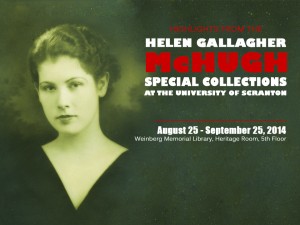 Brian E. McHugh '59 recently announced a planned estate gift to the Weinberg Memorial Library in memory of his mother, Helen Gallagher McHugh. In memory of Mr. McHugh's mother, the Weinberg Memorial Library's Special Collections were named the Helen Gallagher McHugh Special Collections. Mrs. McHugh was born in Kingston and resided in Plymouth.
In honor of the naming and dedication, the Library is currently hosting an exhibit with a small and selective sample of the Helen Gallagher McHugh Special Collections. Most of this material has been assembled since 1996, starting with the acquisition of the Joseph Polakoff Papers followed by the Joseph McDade Congressional Papers Collection. Although the Library had a small rare book collection, including four mostly complete medieval manuscripts and a handful of books printed prior to 1500, the collection has been significantly expanded through the creation of the Hill-Davis Jesuit Collection with initial funding from the Rousseau Memorial Fund and subsequent funding from the Jesuit Community. Other items have been acquired through the generosity of the Friends of the Weinberg Memorial Library, as well as through donations and purchases.
This exhibit is concentrating on the Helen Gallagher McHugh Special Collections. The department also contains the University Archives, which are not featured in this exhibit. Material from the University Archives was featured last year in an exhibit celebrating the 125th anniversary of the University. Archival material is regularly featured in Heritage Room exhibits and a significant amount is available online in the Library's Digital Collections.
The exhibit is on display in the Library's fifth floor Heritage Room until September 25. For more information about the exhibit, please contact Special Collections Librarian Michael Knies. michael.knies@scranton.edu    (570) 941-6341