I'm a big fan of storytelling.  I've been doing it ever since I convinced my second grade class that Susan Lucci was my birth mother.  So when I heard that Scranton would soon have its own StorySlam, I was very excited.  Started by Abington Heights Senior, Madeline Zoe McNichols, StorySlam is an homage to New York City's legendary storytelling series, The Moth.  Participants must tell a TRUE story in five minutes or less.  What you get, is a blend of memoir, performance, poetry, and laughter.   Tonight, University of Scranton's, Dr. Michael Friedman, will be taking the stage in Slam in the Summit: What Doesn't Kill You.    Come out and show your support for Dr. Friedman and all of the storytellers!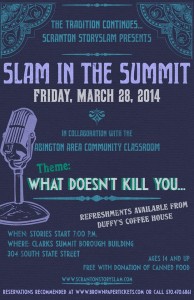 What:  Scranton StorySlam Presents: Slam in the Summit.  Theme:  What Doesn't Kill You.
Where:  The Clarks Summit Borough Building, 304 S. State Street, Clarks Summit
When: Tonight at 7PM
Cost:  Admission is free with the donation of a canned food item.