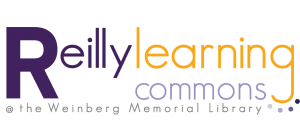 Join us for the official grand opening! We will be holding the Ribbon Cutting and Grand Opening for the Reilly Learning Commons in the Weinberg Memorial Library on Wednesday, September 17 at 10am. The Reilly Learning Commons features state of the art computers including Macs and PCs, collaboration spaces, a lecture capture room, as well as space for the Writing Center to provide tutoring. Come to the ribbon cutting and see what this newly renovated space has for our students. Coffee, tea, and cake will be served.
Immediately following the Grand Opening will be a vendor fair from 10am-12pm and 1-3pm on both September 17th and 18th. We have invited some of our major information providers to our campus to show interested students, faculty, and staff how these products can meet their research needs as well as answer any questions they may might have about using these resources for their research. There will also be raffle prizes and give-aways! A full schedule of vendors is listed below.
Our Digital Services Librarian, Kristen Yarmey, will also be demonstrating the Library's Digital Collections and its rich assortment of resources from the Aquinas to the Yearbook; Basketball and Football collections to Commencement Programs and Newspaper Clippings. Professor Yarmey will also be demoing the Digital Public Library of America. The DPLA is a website that unites digital collections from many different libraries, universities, museums, and historical societies, to one place.
There will also be Writing Center and CTLE staff on hand to discuss the services they provide through the Learning Commons. You will be able to learn about the lecture capture room and how students can practice presentations, record them, and save a digital copy. The Writing Center will be providing evening hours and drop-in times for students to get help where and when they need it.
Please, join us for two full days of information and celebration, snacks and prizes! We are excited for everyone to see our new space and learn about its features and services. We hope that you will stop by and encourage your friends and colleagues to attend as well.
Wednesday, September 17
10am Ribbon Cutting
10am-12pm: JSTOR, Springer, Project Muse
1pm-3pm: ProQuest, Alexander Street Press, IEEE
Thursday, September 18
10am-12pm: EBSCO, OVID
1pm-3pm: Sage, Elsevier