Currently, there are some really excellent free Windows applications which are great for making your lives, as students, easier. Most of these applications are available for download from www.download.com. Here are a few applications that I find excellent… 
1. WordWeb – See review and Download @ http://tinyurl.com/4t86s3
WordWeb is  an application that is practically invisible on your desktop, only a small icon is found in your toolbar, and it only pops up when you really need it. However, this application makes looking up definitions quicker and easier than ever before. Once you have downloaded the application, simply highlight the troublesome word in a browser, in a word document, and even PDF files – simultaneously press "CTRL + ALT + W" and a pop-up  window gives you the definition you need.
This application is published by Princeton University and pulls its definitions from their WordNet database, so its content is librarian approved.
2. Stickies – See Review and Download @ http://tinyurl.com/554fhw
Do you use Post-It notes to keep track of your assignments? Worse yet do you not keep track of your assignments?
If you answered yes to either of these questions, then you should seriously consider using Stickies. This application takes the Post-It note and makes it digital, so no more sticky pieces of paper all over your walls and on your monitor.
The sticky note could be moved around your desktop or in case of last minute assignments could be set to be "always on top" meaning no browser windows will cover it up, so it's always reminding you to finish your work. Though the default style is super plain, you can customize the Background color, the Font, and the Font color so that it becomes a little more friendly on the eyes.
3. The StarDock ObjectDock – See Review and Download @ http://tinyurl.com/66asvt
As a librarian, I have an affinity for order, this includes desktop icons. Organizing your life is a good way of reducing stress and since many college student's lives are lived on their computers, your desktop is a good place to start.
Now, with ObjectDock you can organize all of your Desktop Icons into a beautiful "MAC style" Icon Bar anywhere on your screen. Icons are animated and "Pop-up" when you scroll over them. So, now you can have the stylistic features of a MAC Operating System on your Windows PC.
Here's a screen shot of my desktop and some of my open source items in action: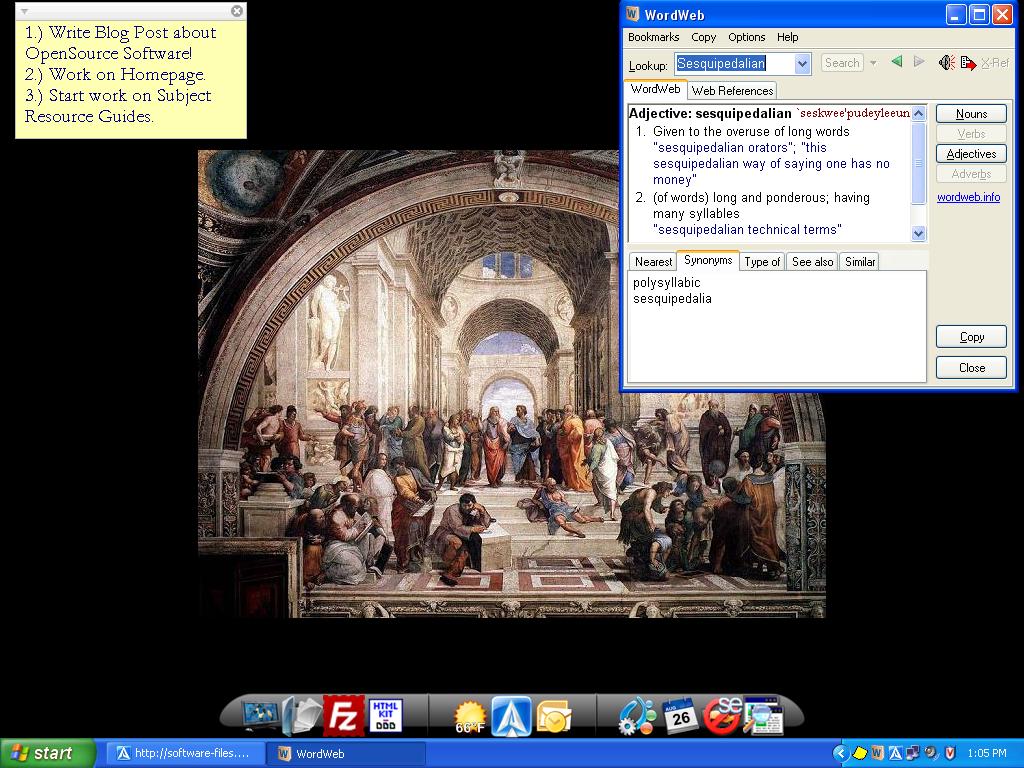 NOTE: There are many free applications out there, try not to download them all just because they are free. Many of the OpenSource applications found on the web are untested and could contain spyware. The items I have listed are tested as Spyware free and have made my life a little bit better.